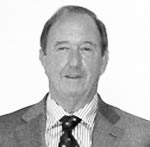 ROGER AVIS
O.L.S., O.L.I.P., C.L.S., F.R.I.C.S. (former member), M.I.A.S.
FOUNDER & PRESIDENT
Mr. Avis has over 33 years in the Surveying industry around the world with experience in England, Algeria, British Honduras, Virgin Islands, Montserrat, Cayman Islands, Jamaica and Canada. He established R. Avis Surveying Inc. in 1988, where under his direction, the company has risen to the top tier of surveying firms specializing in the Condominium development industry.
Mr. Avis's professional profile also includes:
Member of the Greater Toronto Home Builders Association Committee to standardize floor area measurements of Residential Units now referred to as Bulletin 22 under TARION.
Member of the working Real Property Registration Condominium Committee in reviewing and revising the regulations, policy and updating procedures which resulted in the amendments to the Condominium Act, 1998.
Member of the Association of Ontario Land Surveyors.
Building Industry Land Development Association – Urban Development Institute.
Mr. Avis was qualified as an Associate of the Royal Institute of Chartered Surveyors in 1972 and is currently a Fellow of the Royal Institute of Chartered Surveyors. He became an Associate of the Institute of Architects and Surveyors in 1974. Mr. Avis earned his commission as an Ontario Land Surveyor in 1982 and as a Canada Land Surveyor in 1981.